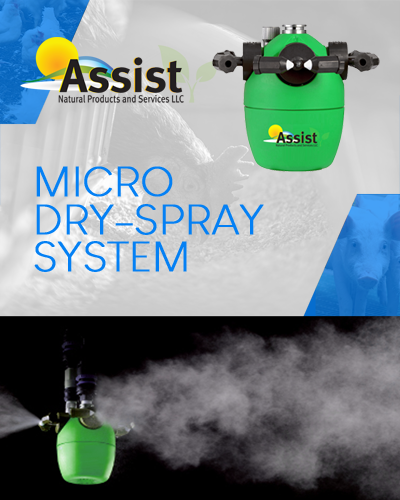 The Assist Micro Dry-Spray System uses a proprietary solution of the natural oxidant hypochlorous acid (HOCL) and an antimicrobial solution. Our technology then converts and dispenses the solution as a non-toxic dry-spray filling every cubic inch of enclosed areas that kill pathogens on all surfaces and in the air.
Using a proprietary blend of HOCL we can cover 225,000 cubic ft. in approximately 20 minutes, with animals present. Our solution provides a very simple way to kill viruses and bacteria during the grow cycle of animal production.  Our system has also recently been proven to eliminate kennel cough.
"Micro Dry-Spray system installed in 12 farrowing rooms in one day.   Easy to use, saw a difference right away."
Brian Couch
Production Manager
Our Micro Dry-Spray Systems operate solely with compressed air and our HOCL solution.
Coverage

Each head covers 60,000 cubic feet
System Specs

Each head requires 4.3 cfm @ 40 psi
Air Compressor

2-head (8 nozzles) system: 3hp w/ 40 gallon tank
4-head (16 nozzles) system: 5hp w/ 80 gallon tank
6-head (24 nozzles) system: 7hp w/ 120 gallon tank
System Includes

Each head comes complete with heads, fittings, and pipe for easy installation.
Solution Usage

Each head will use approximately 3 oz per minute
The photo on the left shows piglets before being treated for Rotavirus C and the photo on the right shows the same piglets just 24 hours later after using our Micro Dry-Spray System.
What Customers Say About Our Micro Dry-Spray Systems