No one knows water like Assist NPS. And no one else can assure your water supply is clean and good to the last drop.
The consequences for not maintaining a clean water system are significant, creating challenges for raising healthy and productive livestock.  Ask yourself:
Am I ignoring my most important resource?
Would I drink the water my animals drink?
How is my water affecting my bottom line?
Don't just assume it's good.  Quality water enhances health, which means more payable pounds.  It creates better feed conversion, growth, and livability.  In short, it's good for your livestock AND your bottom line.
We offer these solutions ...
Aquatabs InLine is installed in line, requires no electricity to operate producing a consistent and reliable free chlorine residual in the water lines to your animals. No hazardous liquid chemicals to handle, no pumps to airlock and fail. One simple canister will supply up to 100,000 gallons of water.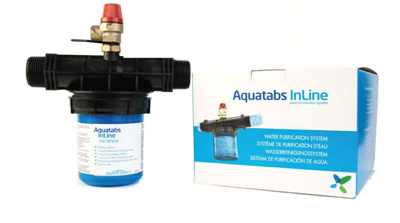 "Super easy to install, couldn't be any easier to use."
Logan Hawthorne
Perdue Farms Area Supervisor
Reliant Tabs Broad Spectrum Disinfectant Water Sanitation
Assist offers an easy to use EPA registered effervescent tablet to disinfect hard non-porous surfaces and drinking water. Effective against animal pathogens such as clostridium perfringens, avian influenza, and many more on hard surfaces. Reliant Tabs are approved by NSF for drinking water. Reliant Tabs' active ingredient is sodium troclosene or sodium dichloroisocyanurate (NaDCC) Easy and convenient to accurately measure, surface friendly, and simple to use.  EPA Reg. No. 71847-6-91852
"Love the Reliant Tabs.  Easy to distribute to our farms and they work great."
Lance Dunbar
Associate Director of Production
Carthage System – Professional Swine Management, LLC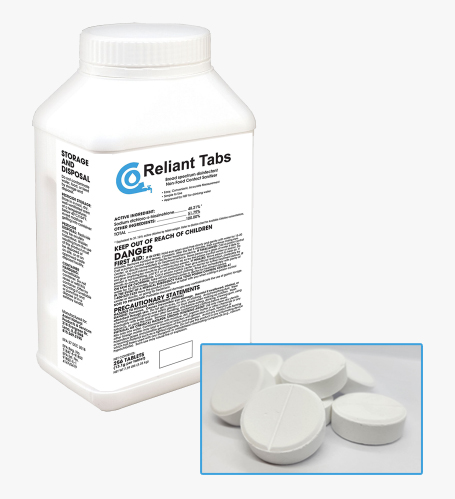 What Customers Say About Our Micro Dry-Spray Systems